4th Annual Mr. Ted's Relay
When and where
September 24, 2022 7:00 a.m. – 7:00 p.m.
Davidsonville Park
3042 Patuxent River Rd, Davidsonville, MD 21035
What a success! Especially for Mr Ted!
So Mr Ted was finally able to beat Ms Snow! A big Thank you to all our participants with an extra shout out to our sponsors, our Lemonade Ladies and especially our High School sports teams and coaches for their awesome support! With the matching money from Volvo and Alex's Lemonade Stand, the Johns Hopkins Brain & Eye Tumor Laboratory should get a grant well in excess of $60,000!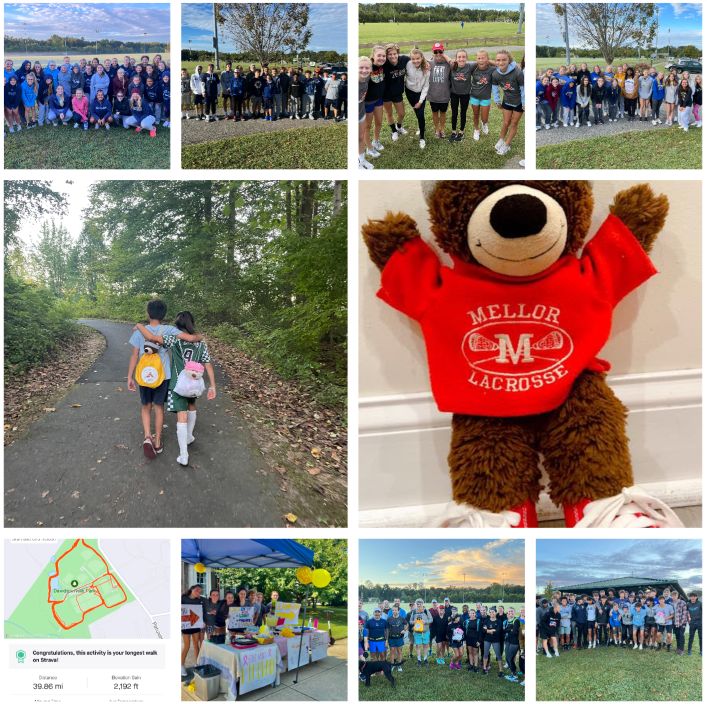 About Mr Ted's Relay
Each year Mr Ted and Ms Snow like to see who can complete the most miles in a day. The problem is they are both teddy bears, Libby's teddy bears, so need your help to complete those miles! You can help by carrying them as you walk, or run around Davidsonville Park.
September is Childhood Cancer awareness month. All proceeds of this Relay will go towards Alex's Lemonade Stand Foundation's "The Million Mile" fundraiser to support the Johns Hopkins Brain & Eye Tumor Laboratory, the lab that's working with Libby's cells to find new therapies for DIPG and childhood cancer.
The best bit about this event is how the $15 registration fee so easily becomes $60 for Johns Hopkins! Johns Hopkins Brain & Eye Tumor Lab have a teams for Alex's Lemonade Stand Million Mile event. We collect the registration fees for Mr Ted's relay and wait until right time of the month when ALSF Million Mile event has a matching partner. We then funnel the registration fees in to the John Hopkins team and they are matched. So that is $15 becoming $30. At the end of the September, Johns Hopkins then applies to ALSF for a grant in the form of all the money donated to their Million Miles team. And what do ALSF do? Match what the team raised and gives that as a grant. So then the $30 becomes $60! Think about that a few hundred times over and you can easily see how Johns Hopkins have received grants of over $60,000 each year from the last four years of us running this event!
Save the Date!
Mr Ted's 5th Annual Relay. Ms Snow wants her title back! 23rd September 2023!